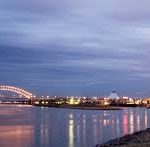 Memphis TN is located on the Mississippi River and is home to Elvis Presley's Graceland. With a population of over 650,000 TN is a convenient sipping location for Gaylord boxes. If you are not familiar with what a Gaylord box is, it's a large corrugated container with multiple layers of cardboard that can hold a large amount of material. Some of our boxes come with a full bottom while others come with a partial bottom and a slip sheet, just let us know what works best for you. ALA Recycling has a variety of services to offer to the state of TN especially in Gaylord boxes.
Our Gaylord boxes services include:
We have an inventory list of all our quality Gaylord boxes that are available for purchase. If you are interested in our Gaylord boxes services or need more information, contact us at 617-332-3280 or request a quote!